WW2 dawned early Monday morning in Manila, December 8, 1941. It was 3AM at Calle Victoria, General MacArthur's Headquarters in the Walled City. The streets empty, dark and quiet. The Army Duty officer, a First Lieutenant, received a radio call from Hawaii. The caller reported Japan's attack, one hour earlier on the battle fleet anchored at Pearl Harbor. Quickly a call was put through to MacArthur's Manila Hotel Penthouse just a few hundred meters away. The General was not surprised having been alerted by Washington of possible hostile moves by Japan after negotiations had stalemated, US oil exports banned, and her financial assets frozen.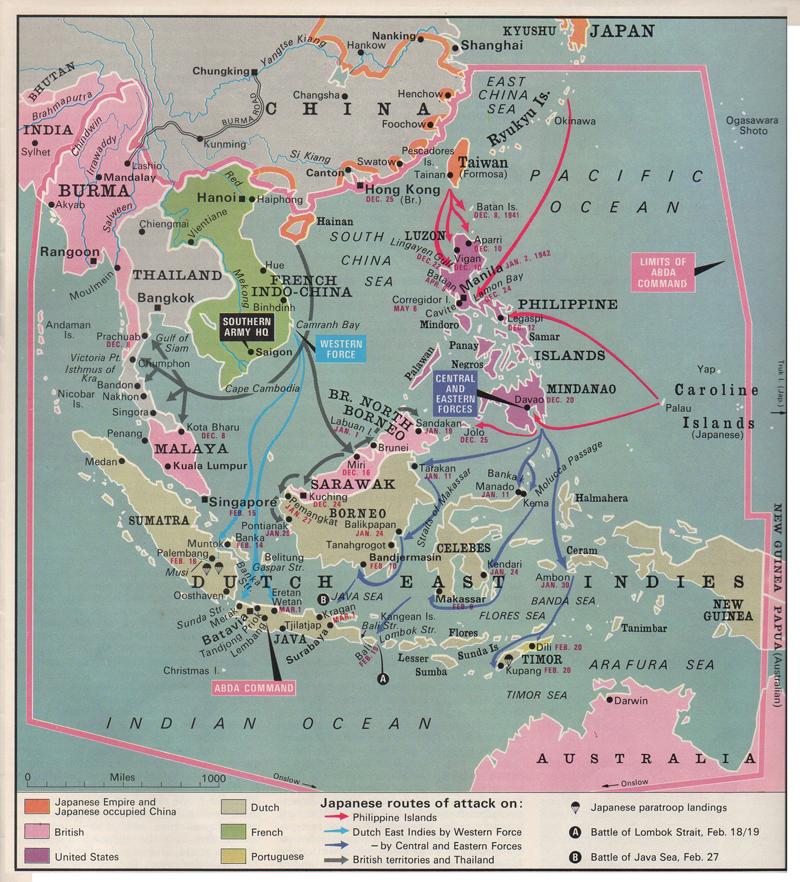 But for most of the civilian population war still seemed far away in Europe. There were some signs however. In July President Roosevelt ordered military dependents back to the mainland. MacArthur had been brought back into the Regular Army as a Lieutenant General in command of all US and Philippine forces. Fresh Army contingents, including a tank battalion, arrived plus B-17 Bombers and P-40 War hawk fighters.
Reinforcements were widely reported in media bolstering confidence the Philippines had little to fear. Japan was perceived as a nation of inferior goods and small people. Japanese military officers were cast in the same light, riding horses, wearing ill fitting cloth hats with long swords clanking at their sides. Most accepted the notion Japan would be foolhardy to engage the USA in a shooting war.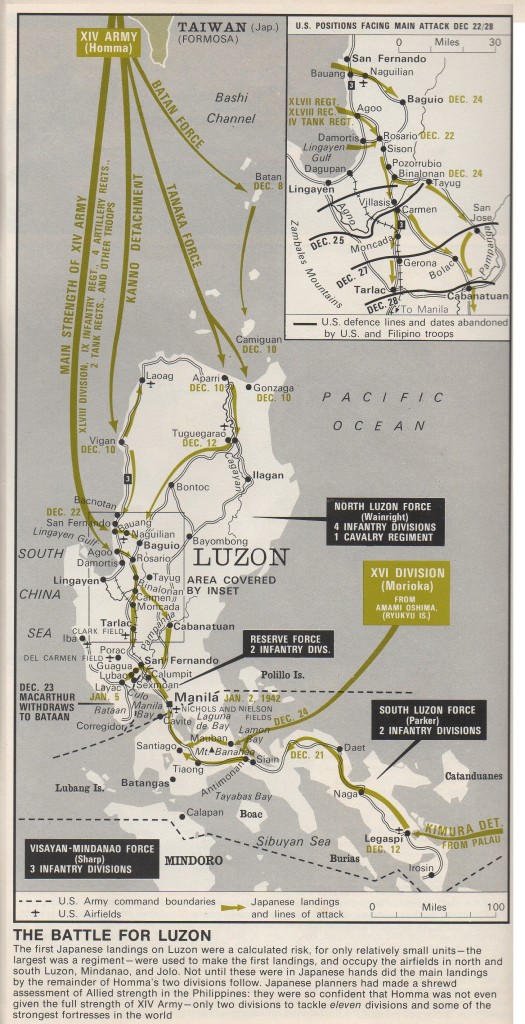 Idyllic peace prevailed. But in November Japanese ships stopped picking up scheduled shipments of mined ores. The regular comings and goings of American President liners were no longer announced. Still business along the Escolta shopping street went on as normal. Preparations were underway for Christmas; newspapers filled with yuletide ads and storefronts gaily decorated with colorful lights.
Late in the day news of Pearl Harbor hit radio and press. There was shock .Many concluded Japan's nose would soon be bloodied by American armed might. But underlying the notion of superior arms lay the truth. The United States was ill prepared for war. Importantly Phil/Am Forces were far short of readiness.
Adding to the shock Japan made initial attacks the same day landing forces in the north Batanes and Vigan and in the south Legaspi, Davao and Jolo. A, still controversial, air attack made on Clark Airfield destroyed a large part of American air assets. On December 9th Tuesday a Japanese Air Armada flew directly over Manila in V-Shaped formations bombing Nichols and Neilson Air Fields and the Cavite Naval Base.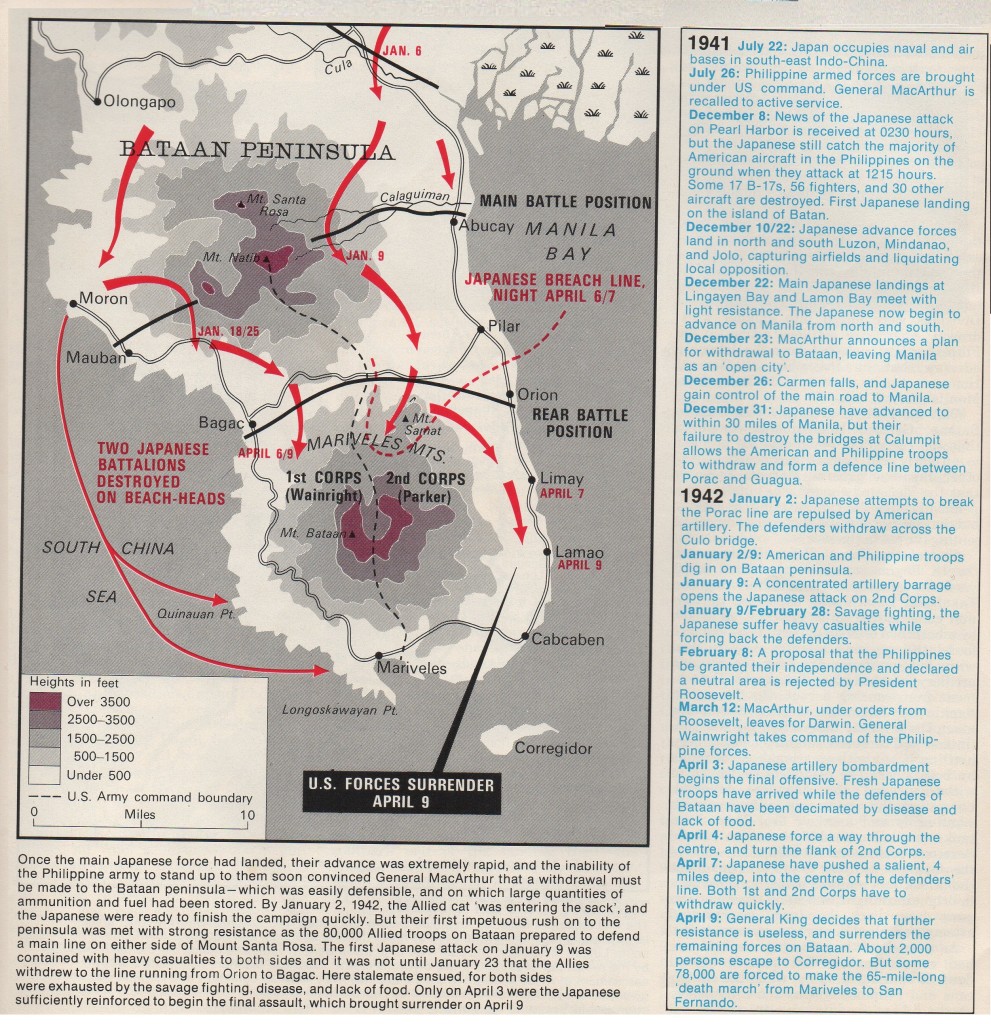 MacArthur's plan was to fight at the beaches. Then on Dec 22-24 the main body of Japans forces landed in strength at Lingayen in the north and Lamon Bay in the south. Resistance crumbled. Phil/Am Forces were in peril of being trapped on the Luzon plain. MacArthur ordered "War Plan Orange" into immediate effect. This long standing plan, developed in the 1920's, called for withdrawal of all US Forces into the Bataan Peninsula. There, a concentrated force would hold out until a powerful relief force of ships, planes, tanks and troops arrived. The Fortress Island of Corregidor would seal Manila Bay.
On December 24 MacArthur held a hurried conference with US High Commissioner Francis Sayre and President Manuel Quezon. All agreed to withdraw to the safety of Corregidor Island. They sailed on Christmas Eve. In hope of saving Manila from further attack it was declared an "Open City". Life in the Pearl of the Orient was coming to a dramatic close, especially for Americans and her allies.
Japanese forces entered Manila on New Year's Day 1942. Units from the south paraded slowly down Dewey Blvd; many soldiers riding bicycles, officers on horseback sabers clanking. From the north they entered Sta. Mesa and columned across Jones Bridge. Fuel dumps in Pandacan, still burning, sent black smoke billowing. Port Area warehouses, thrown open and deserted, having been looted for whatever had been left by the Army.
An apprehensive populace stayed indoors not knowing what to expect. Many knew about the 1937 Rape of Nan King. Some Americans congregated at the Army/Navy Club and the Manila Hotel thinking strength in numbers offered greater protection. The arriving Japanese Army units did not harm civilians. Soon, however, orders were given on radio and newspapers for all "belligerent civilians" to register with the Japanese Military Government.  Interment at Santo Thomas University and other camps around the country quickly followed.
The gay and colorful life of Manila of the past two decades came to a crashing end in one month's time. In 1945 MacArthur returned. The once proud city emerged as a charred ruin. The buildings, the prewar life and the actors severely scarred. Indeed the crushing defeat of Japan and the departure of American, British, French and Dutch Colonial powers heralded a New Beginning for Asia.
This Sections starts with an excerpts from the Dec 1941 AmCham  Journal( Source: American Chamber Library Philippines)  and maps showing the invasion routes of Japanese forces at the outbreak of WW2.
Source: History of Second World War Purnell and Sons Ltd/Imperial War Museum
Download Amcham Journal Dec 1941