The US Army and Navy were important components of the American community. The Army dominated with its key bases; 1) Army HQ at Intramuros 2) Fort McKinley Army Base and Aerodrome (now Bonifacio Global City), 3) Neilson Aerodrome (Now Ayala Ave Makati),4)Fort Stotsenburg and Clark Airfield in Pampanga, and 5) the four fortified islands guarding the entrance to Manila Bay. (Corregidor-Fort Mills, Caballo Island-Fort Hughes, El Fraile Island-Fort Drum, and Carabao Island-Fort Frank.)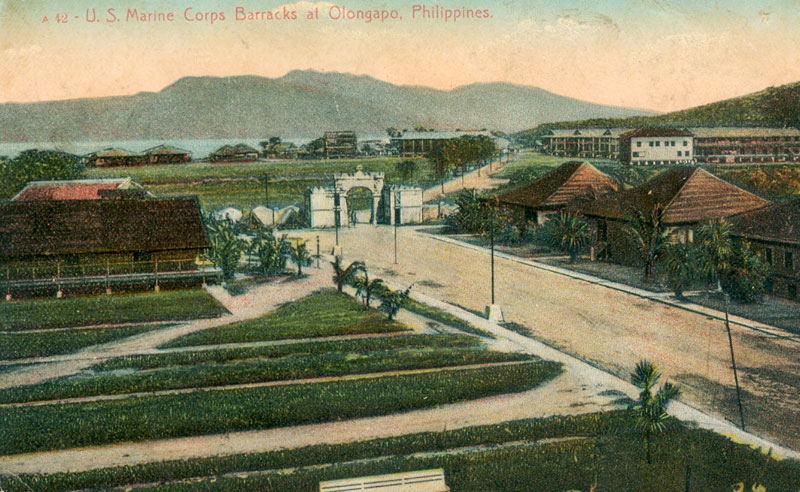 Main components of the Army were the Philippine Infantry Division (Intramuros and Fort McKinley), 9th Cavalry ( Fort Stotsenburg) the Costal Artillery (Corrigidor and adjacent Fortified Islands) and Army Airforce pursuit and bomber squadrons (Clark). A recreational base was maintained in Baguio (Camp John Hay) used by all services. The Army and Navy Club, adjacent to the Luneta, served as the main locus of social activity for officers of all armed services.
The Navy, headquartered in the Marsman Bulding in the Port Area, had its main base at the Cavite Navy Yard and nearby Sangley Point. A small base was maintained in Olongapo north of Manila led by a detachment of Marines. The "Asiatic Fleet", headquartered in Shanghai maintained a rotating presence of cruisers destroyers, submarines and supply ships through Manila plus Air Patrol detachments.
This section starts with a 1920 article entitled "The Victory Carnival"(*) which promoted remembrance of Admiral Dewey's 1898 Victory over the Spanish Squadron; also an excerpt from the 1920 Fort Stotsenburg "Growls" base newspaper(**) which captures life on the base in the 1920's.
Source: American Historical Collection and Bob Blume Collection
Download The Victory Carnival
Download Fort Stostenburg Growls