Baguio, in mountainous, wooded Northern Luzon, became the "Summer Capital of the Philippines". Started by the Spanish as a medical sanitarium, the Americans established it as a place for all to escape the intense April/May/June summer heat. By the mid 1930's Baguio City and surrounds reached its pre-WW2 peak in popularity and facilities. Baguio had become a year around attraction. A Gold Mining boom added an additional glow of prosperity.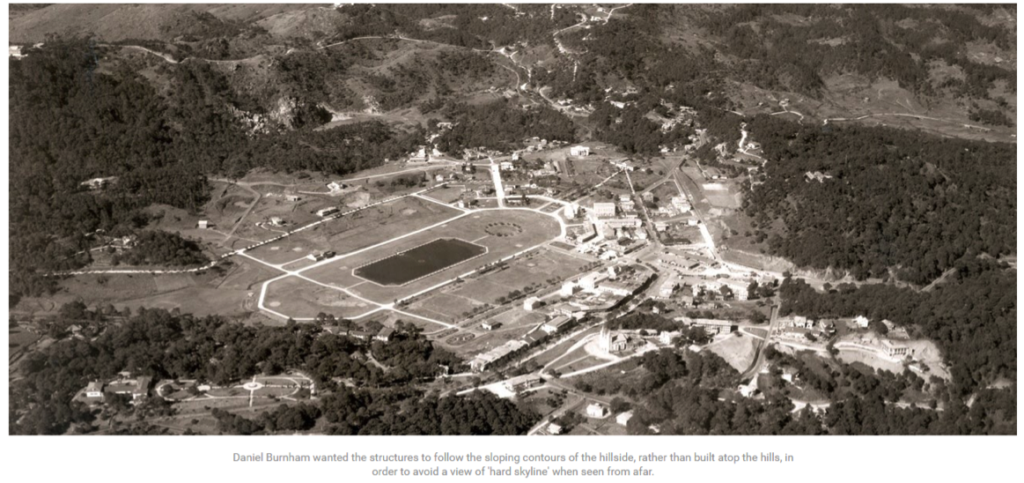 Baguio 1932 – Burnham Park and the Town Center
Travel Time to Baguio from Manila
1 hour by Air (PATCO)
4 ½ hours by Motor Car
6 hours by Train (Manila RR) 
The Pines Hotel
The modern Pines Hotel was the most prestigious place to reside. A 1935 pamphlet (see below) describes Baguio as "A mountain park where smoke, dust and noise are unknown". —"with miles of wooded bridle (ie. horse) trails thru pines, oak and orchid covered mountains". And the Pines Hotel is said to be "The Social Center of Baguio for all special occasions with seven wood burning fire places". Guests could warm up in the evening while enjoying "excellent cuisine and attentive service"; Baguio strawberries and ice cream for dessert. After dining enjoy dancing to the "Nino Lapretti Orchestra". Tired? "Return to your spacious room far removed from the music and dancing".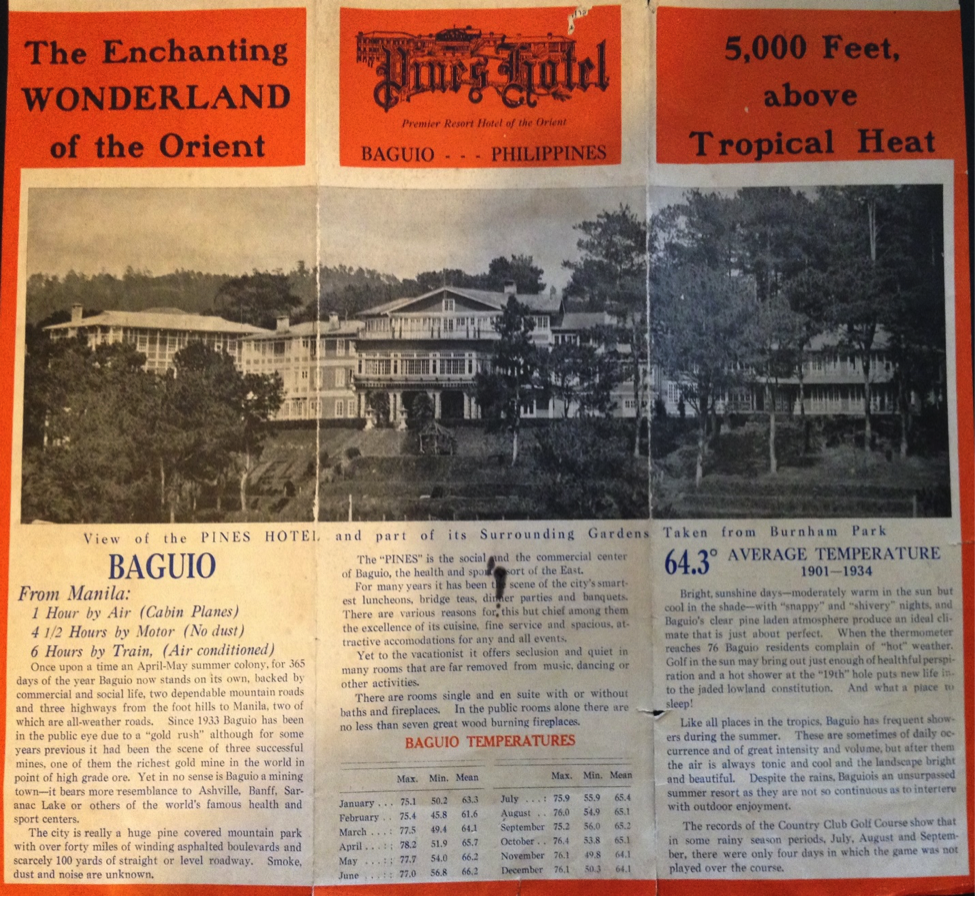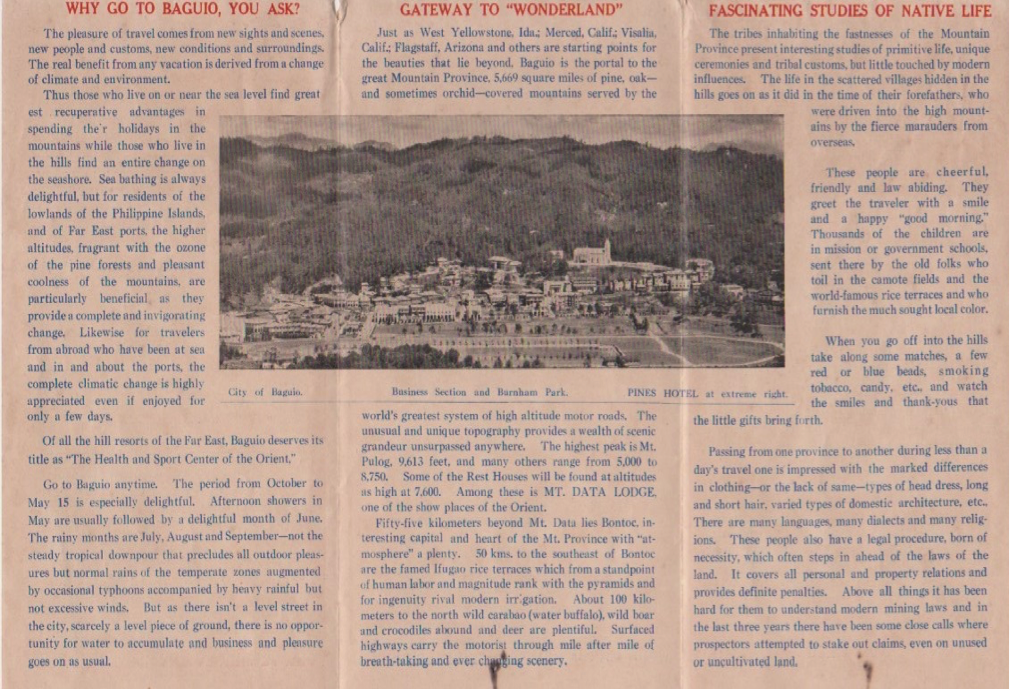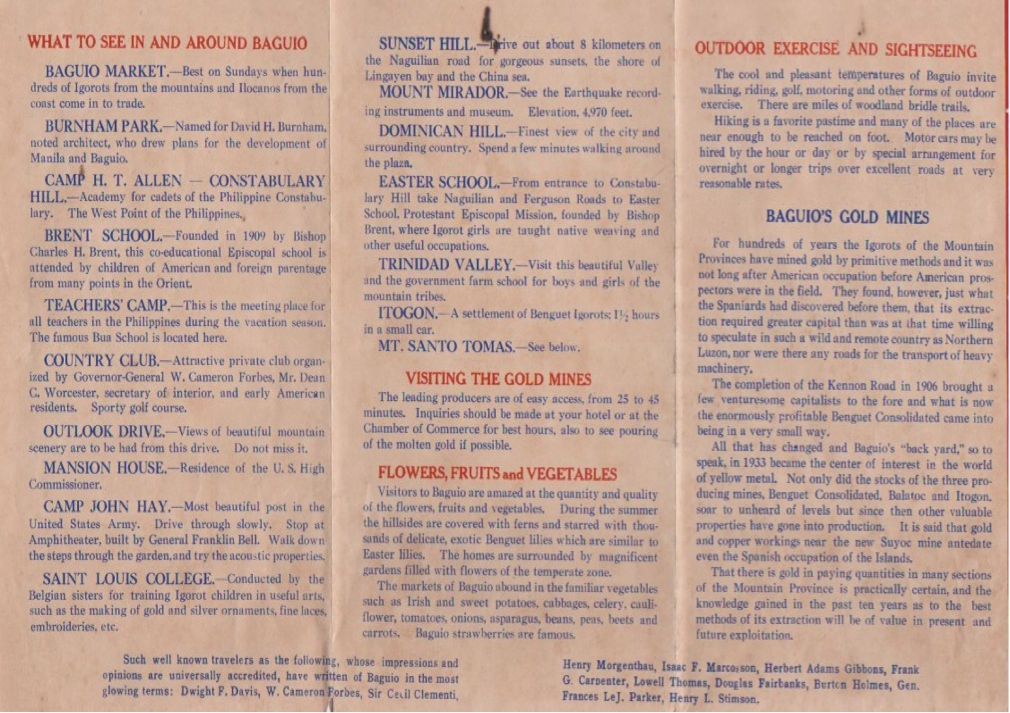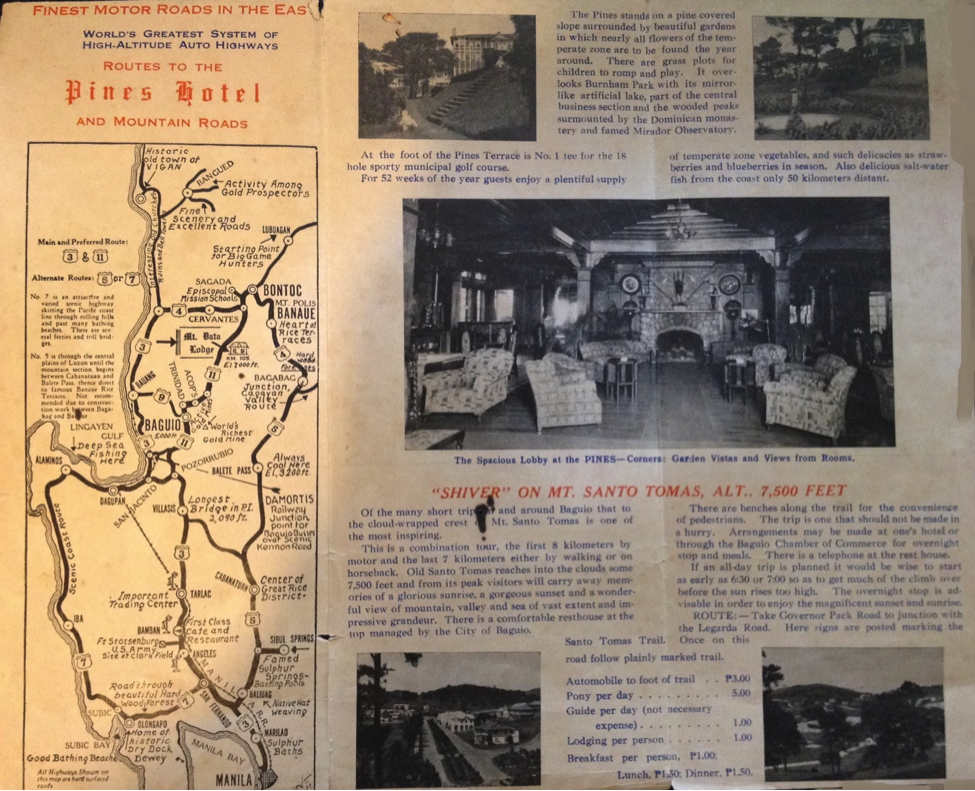 Other Baguio Lodgings available: In the 1930's visitors could select to stay at several less expensive lodgings.
Camp John Hay / U.S. Military Reservation (Established 1903)
Several cottages provided lodging for senior Army and Navy officers and their families. During the summer season the Manila Bay based Asiatic Fleet sailed north for Japan and China port visits. Families of ship captains frequently spent one or two enjoyable months in Baguio.
The Baguio Country Club (Established 1906)
Baguio CC Members could book several rooms fronting the golf links.
Teacher Camp
American Teachers from all over the Philippine Islands came to Teachers Camp for rest and training. Simple cottages and tents provided accommodation. The "Camp" still flourishes to this day.
Such was Baguio in the 1930's. A pristine Get-a-way. BB