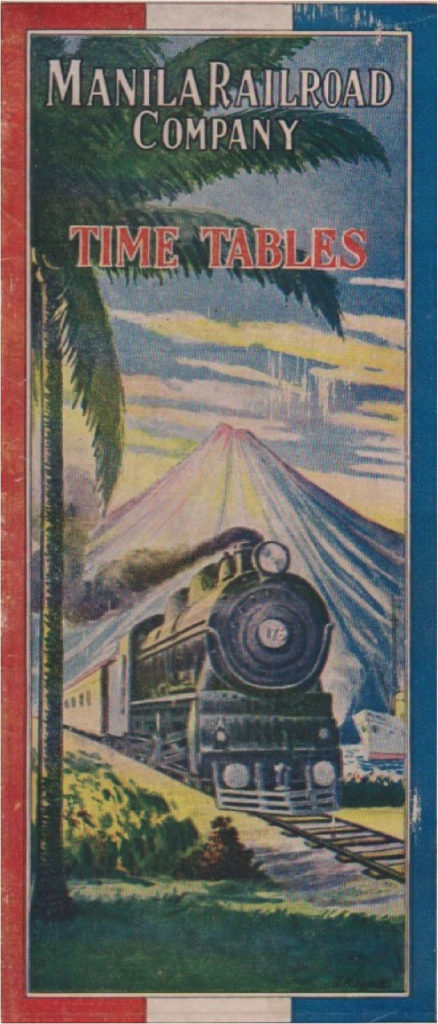 Manila residents witnessing the crumbling PNR commuter trains crawling along weedy tracks adjacent to South Highway would find it difficult to believe and even skeptical if told that the Philippines once hosted a modern railroad which was the envy of other Asian lands. But it is a fact of history. The Manila Railroad Co. (MRR) pre WW2 was on a par with rail lines operating in America and Europe. Passengers were carried quickly and comfortably both north and south; spotless dining cars, and "Pullman" sleeper cars with powerful American manufactured steam locomotives up front. On the cargo side, Philippine exports of sugar cane, copra, coconuts, and lumber were efficiently delivered by rail to sea ports for shipment.
A Bit of Manila Railroad History
The Manila Railroad Co was established by Spanish Royal Decree in 1886; the initial Manila-Dagupan line being completed in 1892. Disruption and damage occurred during the "Period of Insurrection 1898 – 1902". Repairs were made. The line operated with financial difficulties until 1917 when the Philippine Government stepped in buying out British owners. A concerted program to extend and modernize ensued.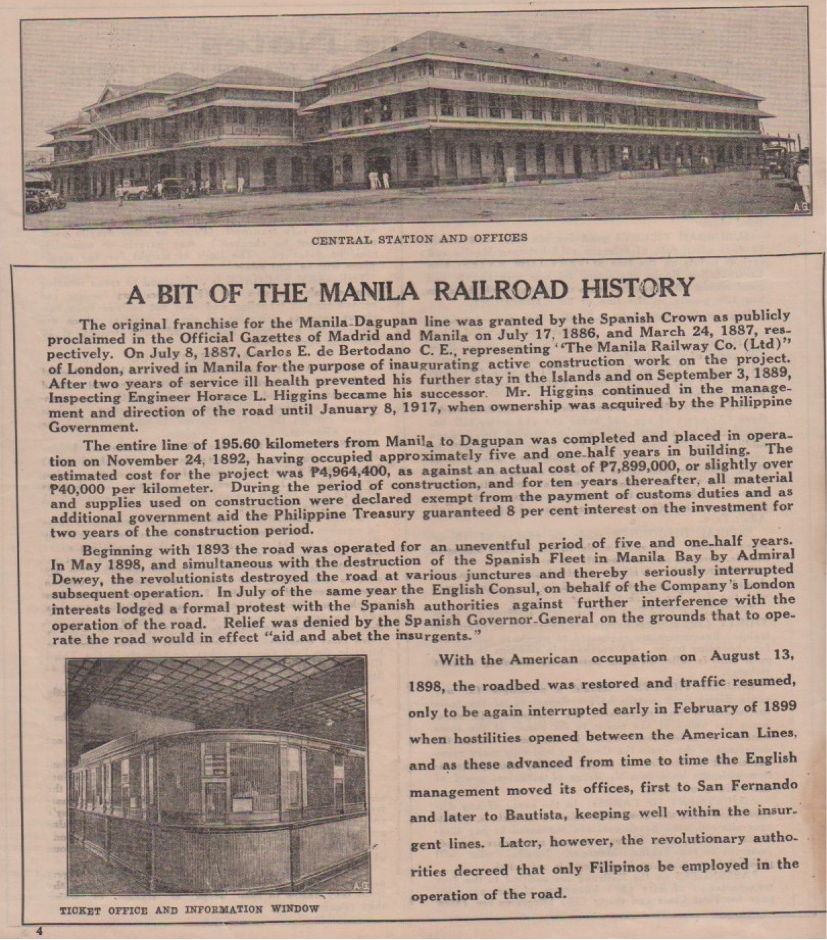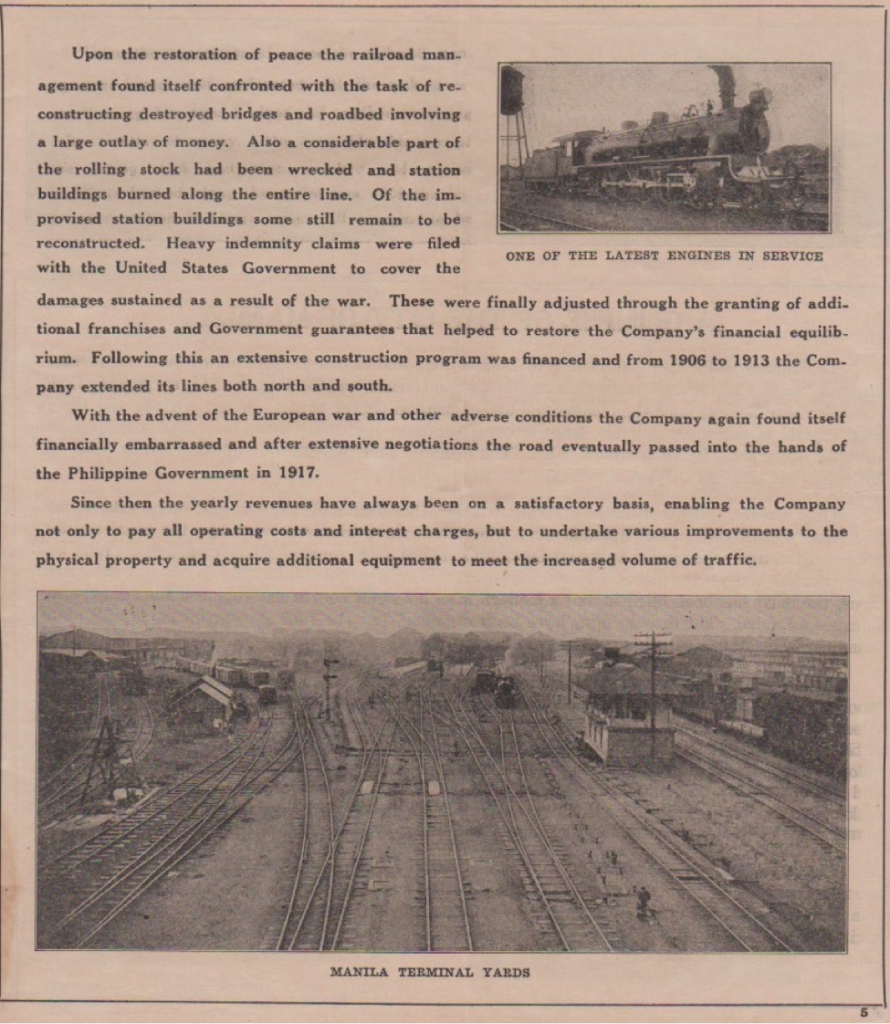 See The Philippines By Rail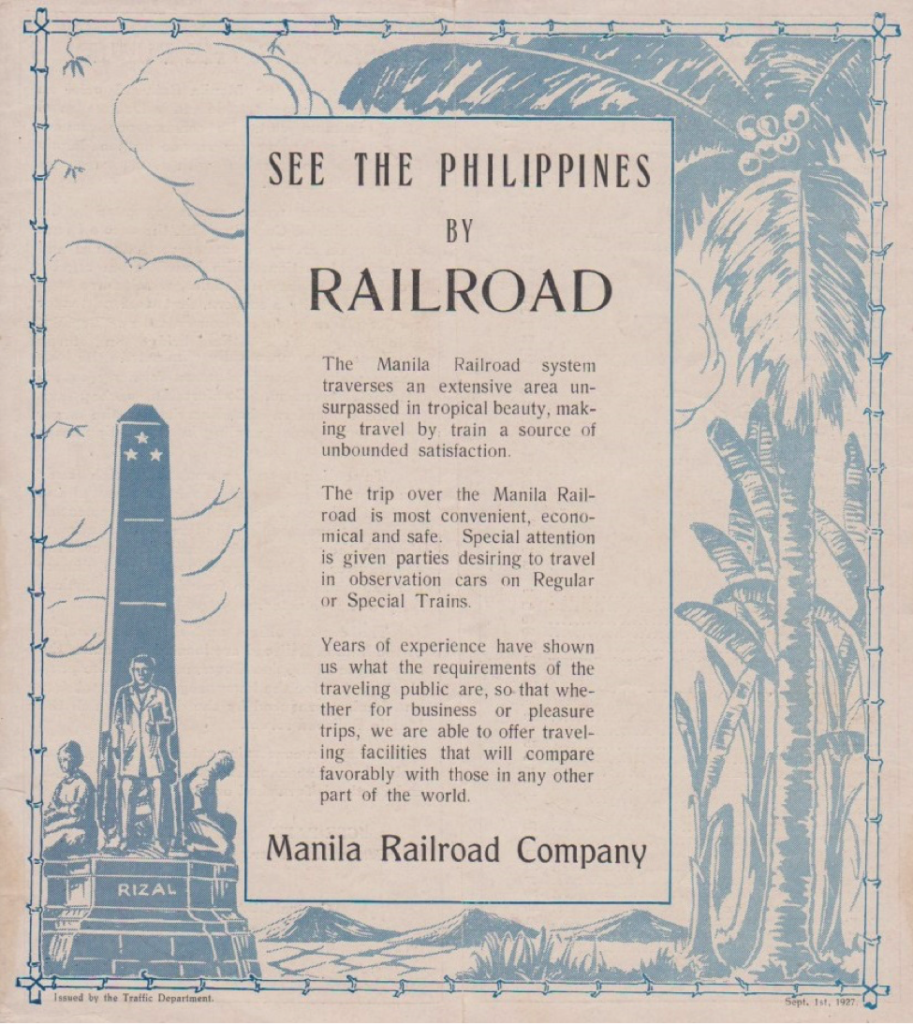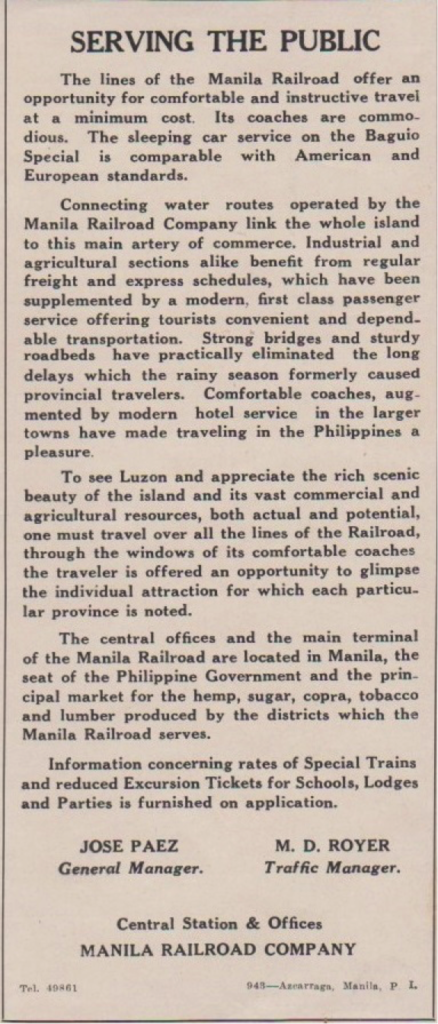 The Route Map North / South Backbone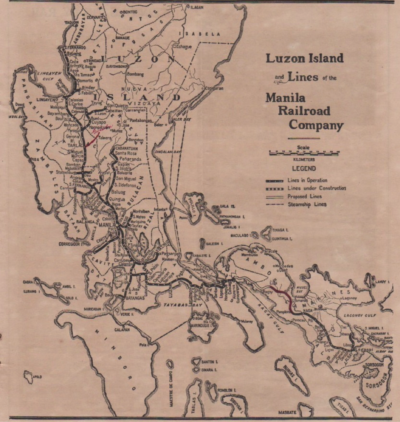 The Route North (Completed 1892)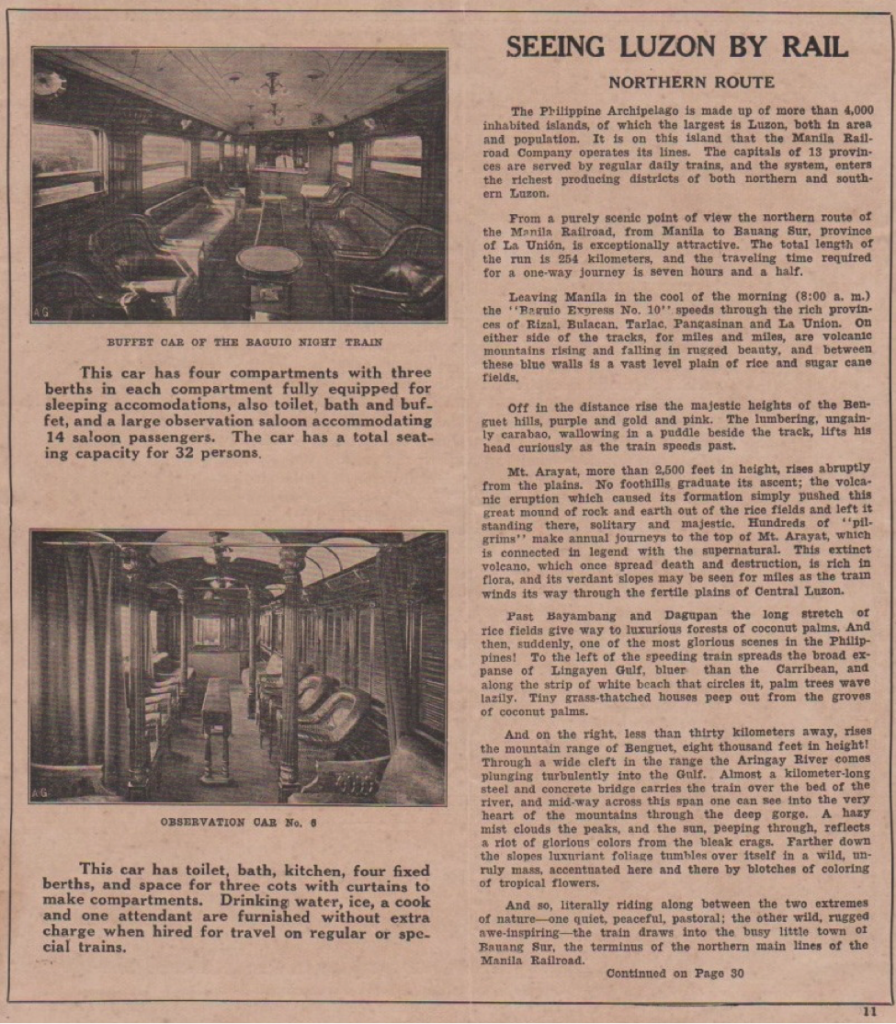 The Route South (Completed 1938)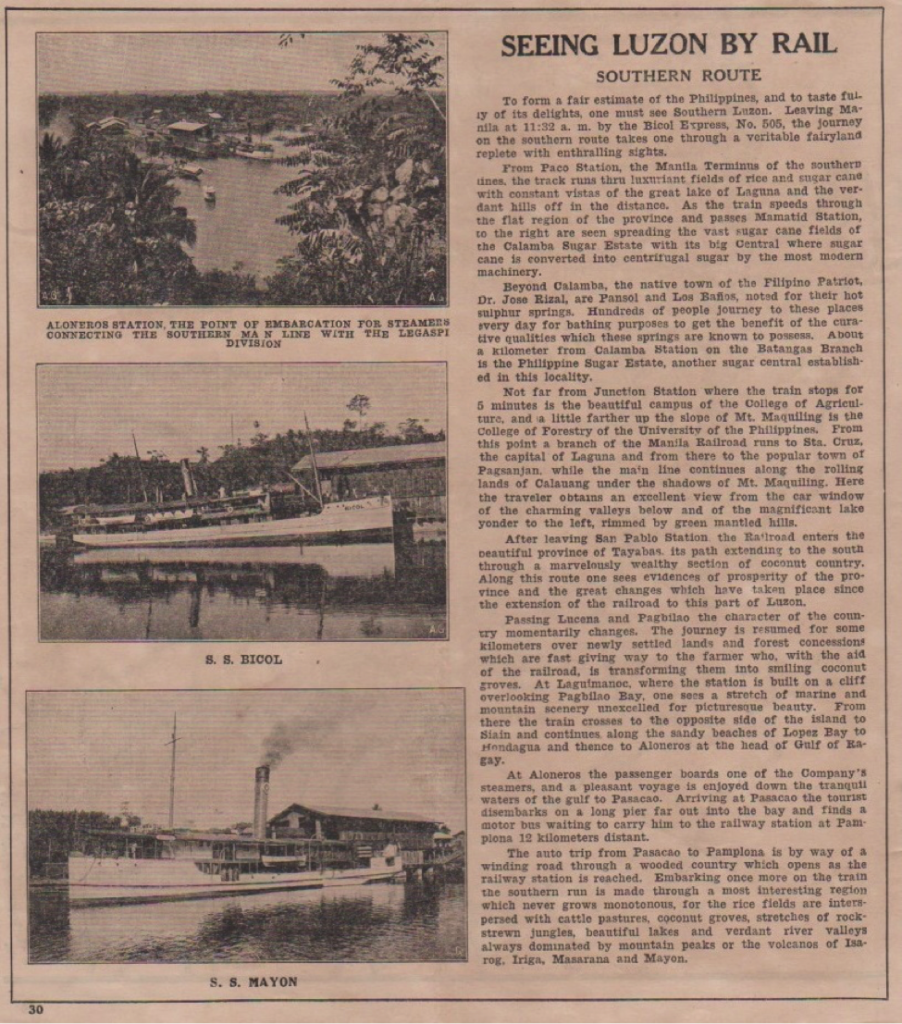 The Manila Railroad / Facts & Figures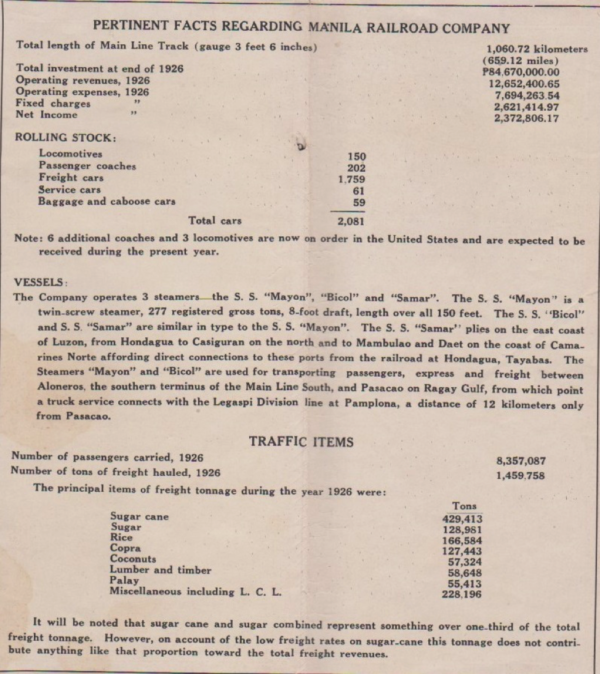 WW2 and Post WW2
MRR operations and routes reached its peak in the late 1930's. "Spur Lines" reached out from the North/South Backbone. In 1938 the South Line was completed to Legaspi City. In 1941 MRR boosted 700+ miles of track, a fleet of 150+ steam locomotives, 200+ passenger and cargo cars plus a chain of modern terminals and stations.
The Japanese Invasion (December 1941) and Occupation (1942-1945)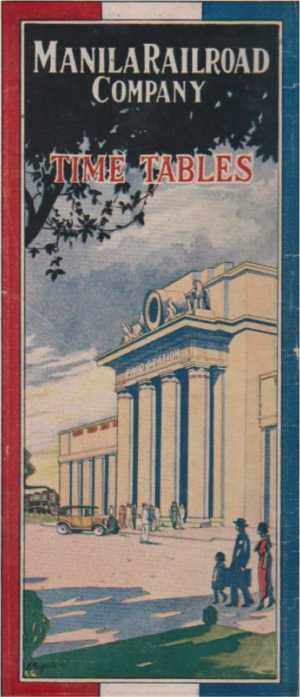 Faced with the Japanese Imperial Army (IJA) rapidly closing in on Manila from both north and south, General MacArthur ordered the Army to destroy MRR rolling stock, bridges and tracks. Following Japanese occupation line assets continued to be depleted. Upon Allied Victory, September 1945, the railroad had on hand only 17 locomotives and 65 cars, all in poor condition. The U.S. Army supplied a number of new diesel locomotives and freight cars in 1946/1947. Japan assisted by way of "War Reparations". But the MRR never regained its pre WW2 prominence. Trucks, buses and cars took over the job of transportation. Today the once proud Manila Railroad is now a bit of scattered and forlorn remnants, named the PNR (Philippine National Railroad) BB
Source: The AERA Museo Collection at Villa Escudero