Background: In the 1930's the way to get around was by ship. Airlines were in their infancy. The country was enjoying relative prosperity from a brief gold mining boom while America and Europe suffered hard times. An increasing flow of wealthy tourists arrived on board American President and Canadian Pacific Ocean liners. The Philippine led Asia in forming a Tourist Bureau.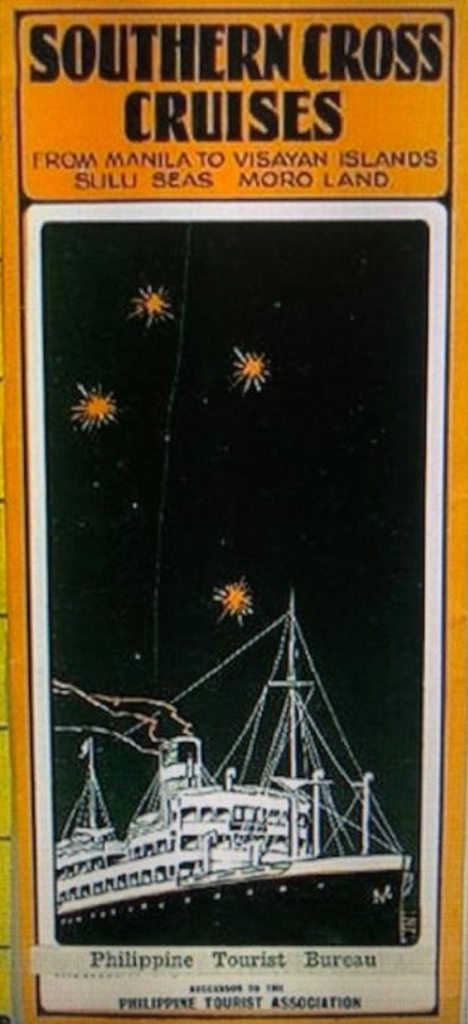 Visitors were anxious to explore the exotic and mysterious Philippine isles to the south. Top local shipping companies responded. A handful of luxury inter- island vessels began voyages to Cebu, Bacolod, Iloilo, Davao, Zamboanga and Jolo.
Leading Philippine Inter-Island Shipping Companies (1930's)
Well established, wealthy families of Spanish heritage dominated the Philippine Shipping Industry:
Compania Maritima led the industry with the biggest fleet. Headquartered in Cebu and owned by Don Ramon Fernandez and Family. Major steamships were SS's(Steam Ships) Corregidor, Cebu, Luzon, Mactan, Bohol and Basilan.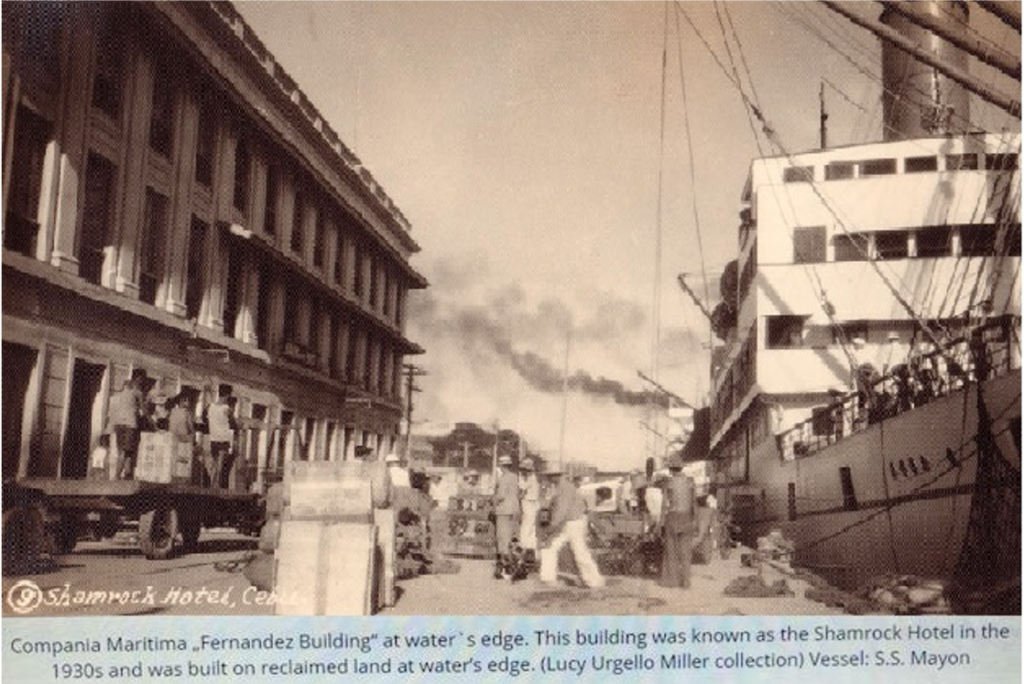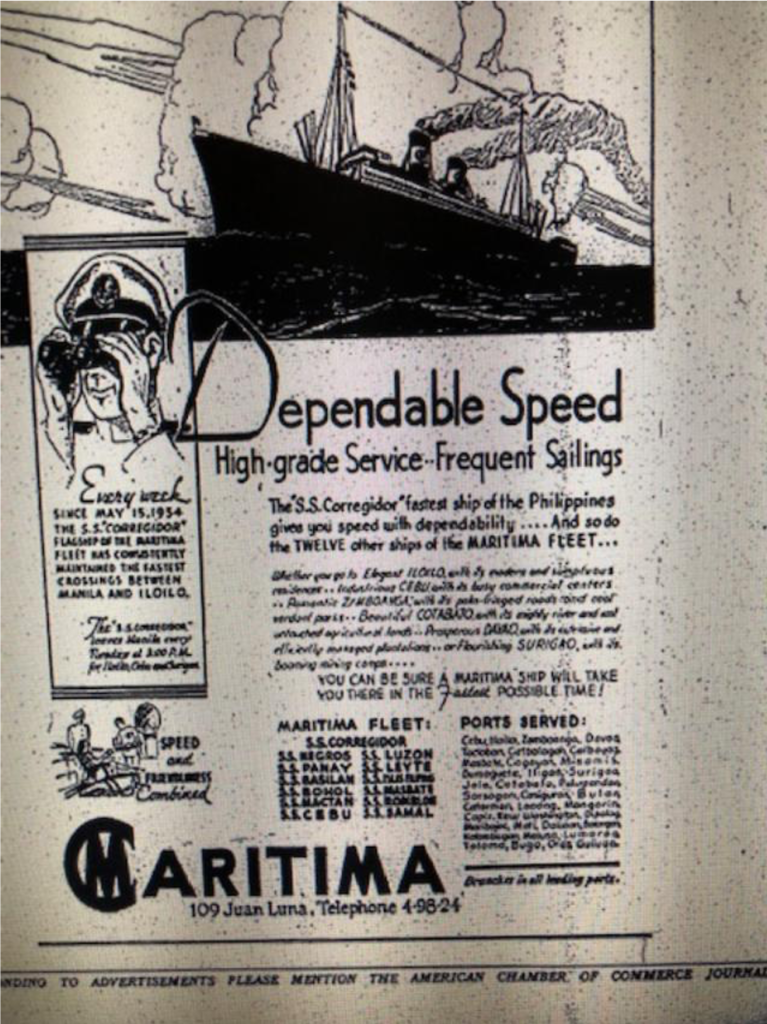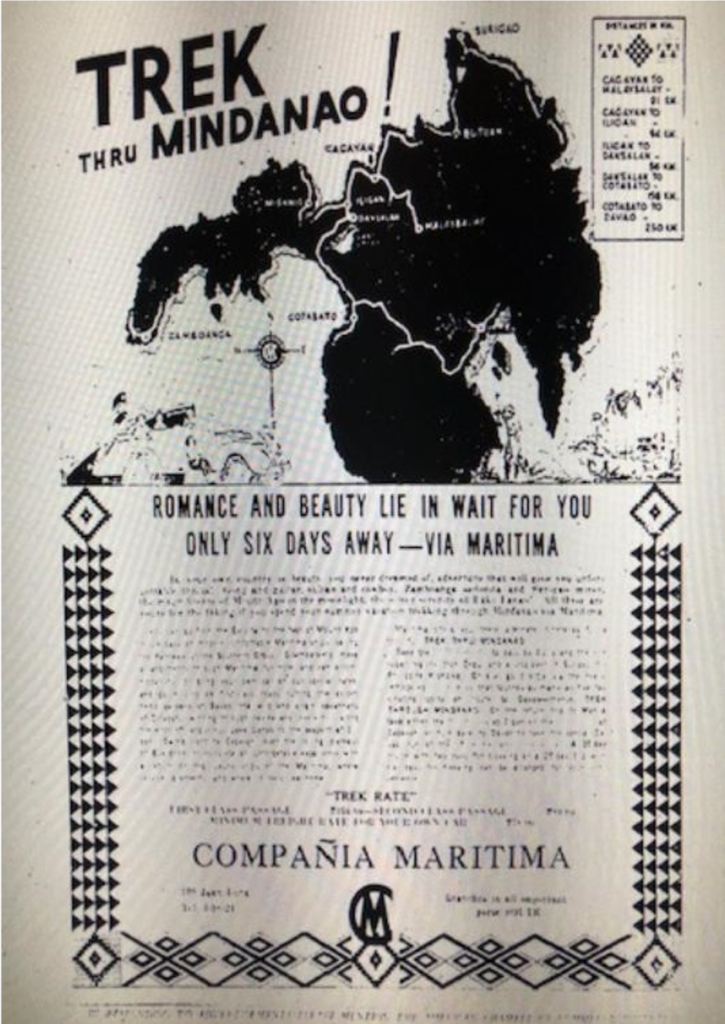 Manila Steamship Co/Elizalde Shipping: Home Ported in Manila and owned by Don Manuel Elizalde and Family. Major ships were SS's Mayon and Panay and MS's (Motor Ships) Viscayo, Venus, Sorsogon and Visayas.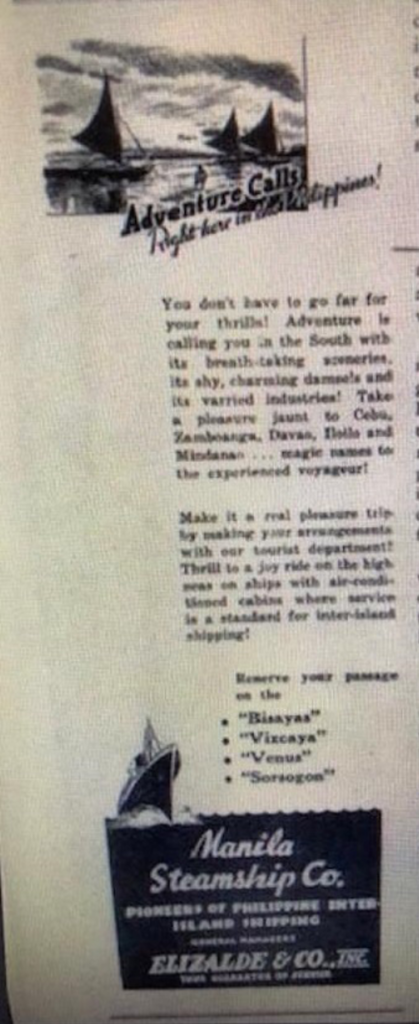 Dela Rama Steamship Co. Headquartered in Iloilo and owned by Don Esteban Dela Rama and Family. Major vessels were MS's Don Esteban, Don Isidro and Doña Nati.
Negros Navigation Co. Headquartered in Iloilo and owned by Don Juan Ledesma and Family. Major vessels were MV's (Motor Vessels) Princess of Negros, Marapara and San Carlos.
Two smaller shipping companies were Escano Shipping based at Iloilo and Madrigal Lines based at Manila.
Luxury Inter-Island Ships
Four inter-island ships afforded passengers a special degree of luxury providing comfortable cabins, bars and dining salons. Nevertheless, vessels in the 1930's were combination passenger and cargo arrangements.
SS Mayon (Built 1911) – Known as the "Queen of the Philippine Seas" The Mayon accommodated 654 passengers in three classes: First 84/ Second 150/ Third 420. Mayon weighed in at 1718 tons and cruised at 11 Knots. The Mayon was first owned by Maritima and later by Elizalde.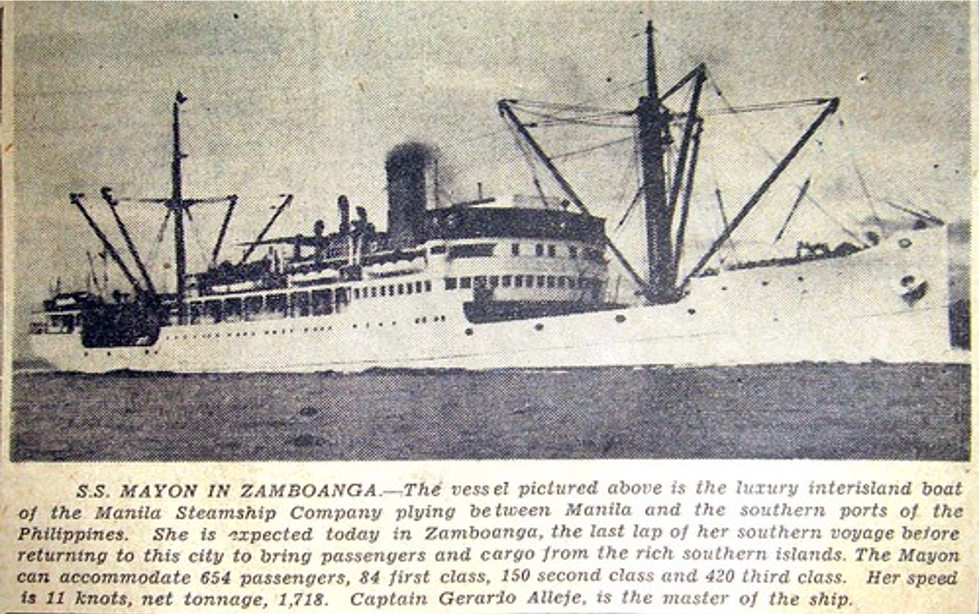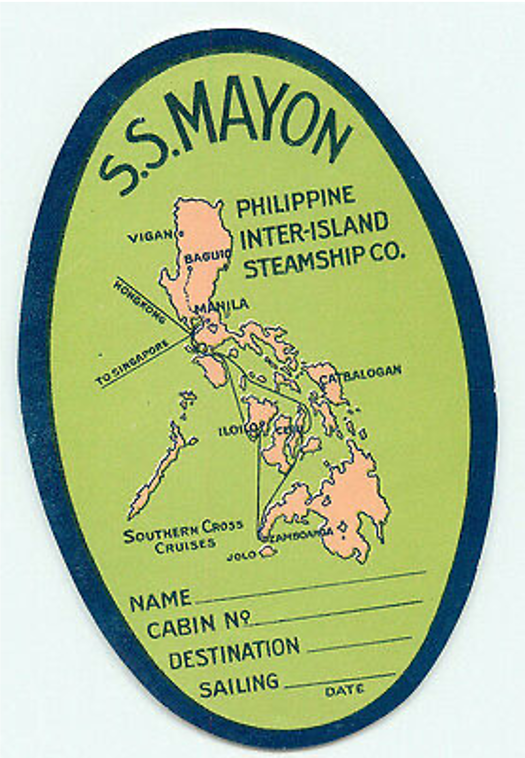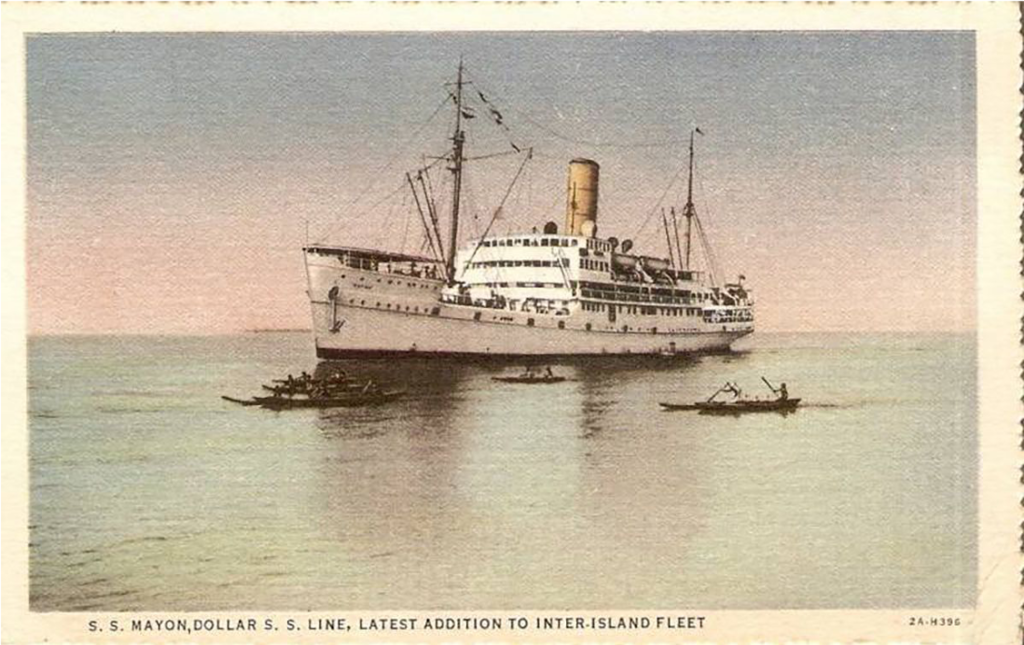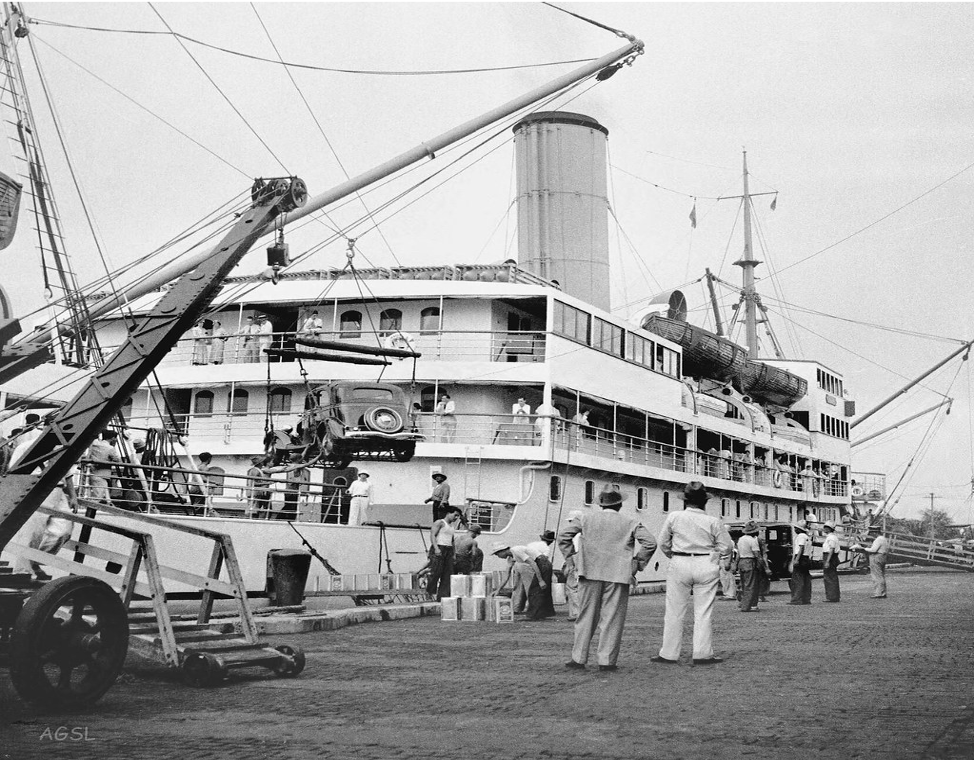 SS Corregidor – Built in Scotland in 1911 as a seaplane tender. In 1933 she was sold to Compania Maritima and converted to a passenger cargo vessel. She could carry about 1,000 passengers in three classes, weight 1,676 tons, speed 21 knots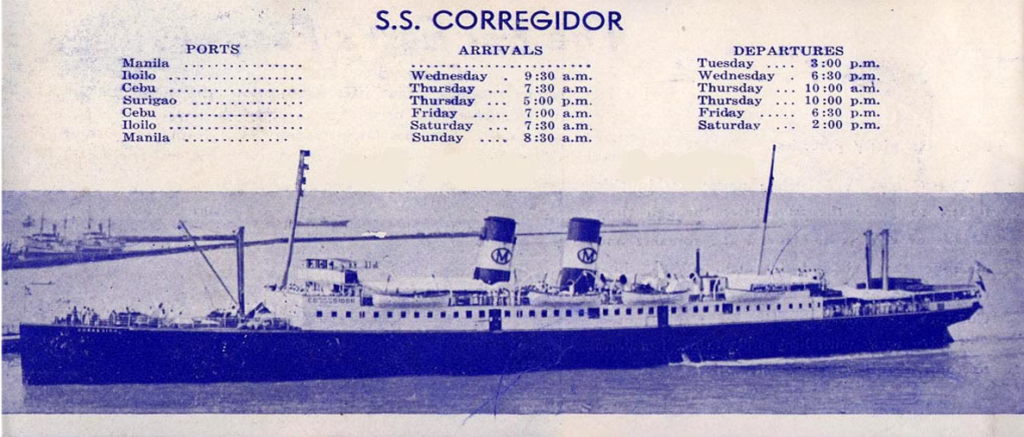 MV Don Esteban – Launched in 1936 by Krupp Ship Works, Germany. She weighed 1616 tons cruising at 16 knots. Owned by Dela Rama Shipping. Capacity 250 passengers in the classes.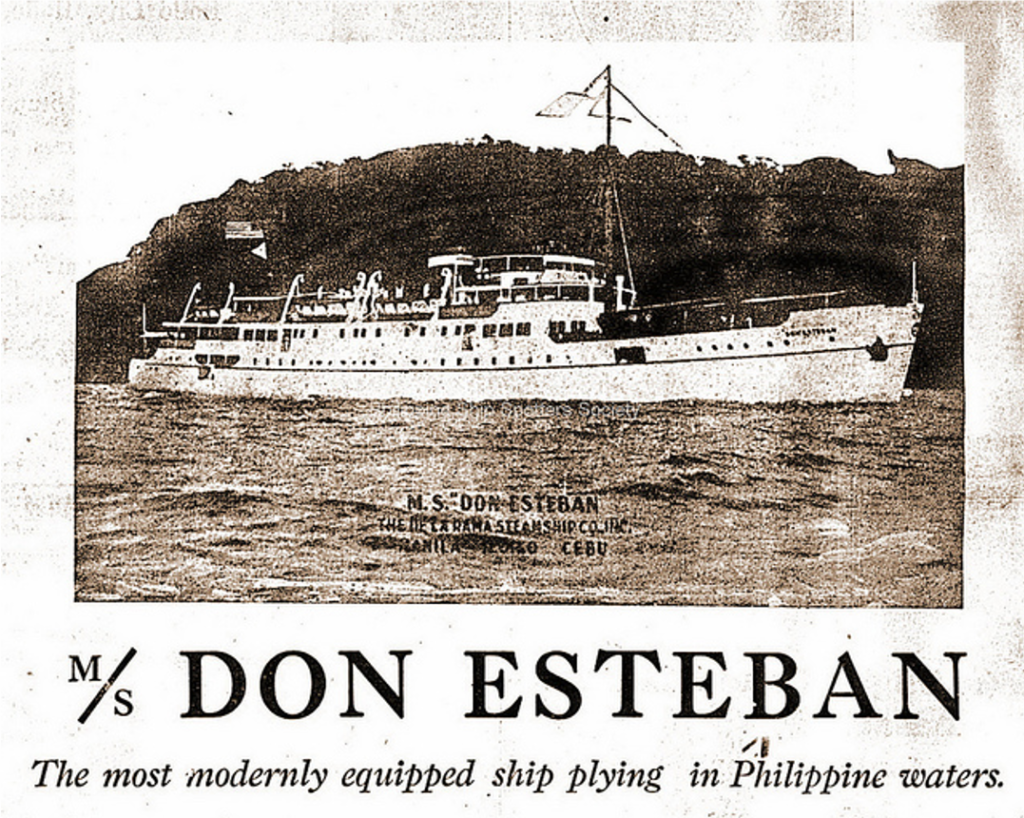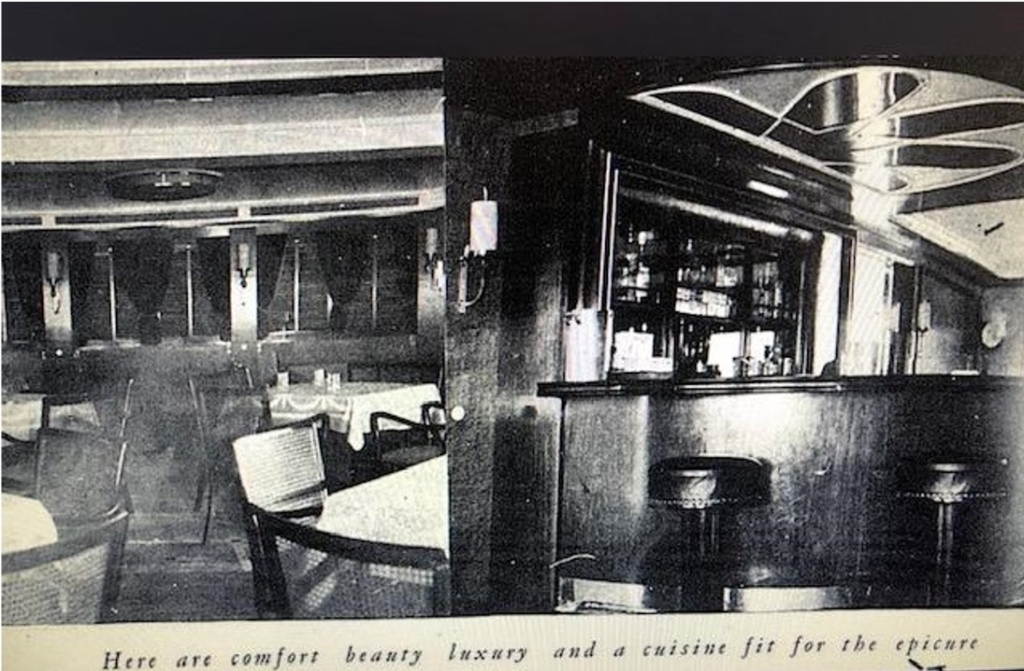 MV Don Isidro – Sister ship of MV Don Esteban. Built by Krupp Germany. Weight 3,261 tons with speed of 20 knots. Capacity 408 passengers in three classes.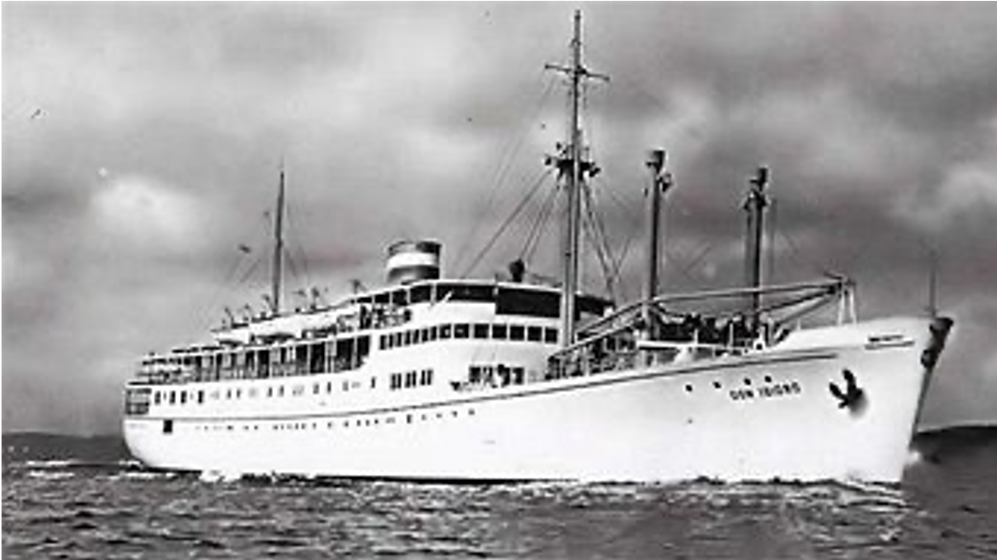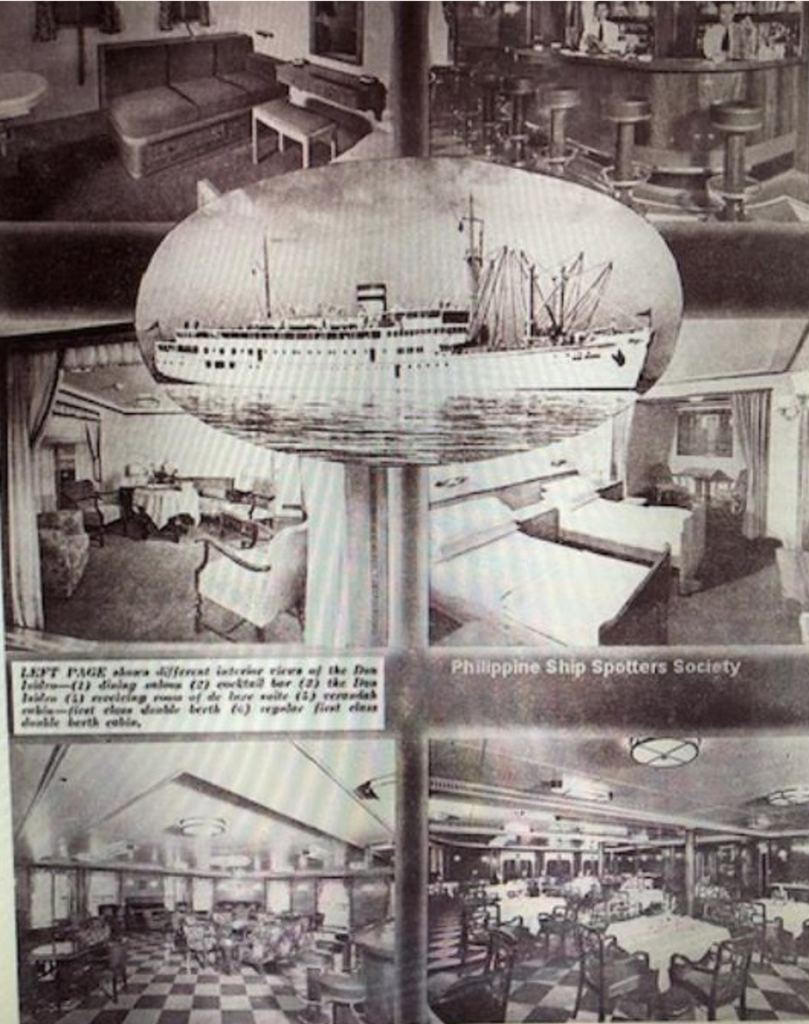 Fares (Late 1930's)
| | | |
| --- | --- | --- |
| ILOILO | TO MANILA | VIA CEBU |
| First Class | Php 31.30 | Php. 18.10 |
| Second Class | Php 22.90 | Php 12.65 |
| Third Class | Php 12.50 | Php 7.25 |
| | |
| --- | --- |
| ILOILO | TO MANILA (DIRECT) |
| First Class with Cabin | Php 20.00 |
| First Class without Cabin | Php15.00 |
| Students and Second Class | Php 13.00 |
| Third Class | Php 8.00 |
WWII Breaks Out – December 1941
In late 1941 the US Army impressed into service several Philippine vessels to support military mobilization. Most were lost in action at the war's beginning or scuttled to avoid capture by the Japanese.
SS Mayon – Transported President Quezon and Family and  US High Commissioner Sayre and Family to Corregidor on December 24, 1941. Badly damaged by air attack near Butuan City, Mindanao, she burned for three days and was scuttled by US Army.
SS Corregidor – She drifted into a mine field while attempting to exit Manila Bay on December 16, 1941. She quickly sank. Over 1,200 passengers, many of them students returning to the Visayas, perished.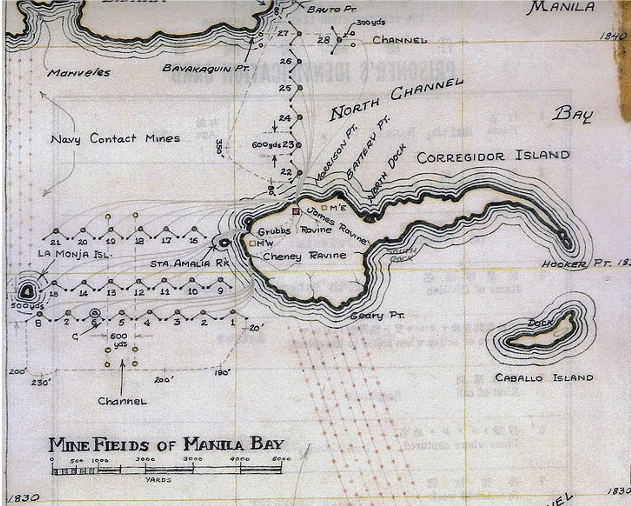 MV Don Esteban – Transported General Mac Arthur and Family along with his staff to Corregidor on December 24, 1941. Sunk by air attack off Mindoro March 2, 1942.
MS Don Isidro – Sunk off Darwin, Australia by Japanese air attack February 19, 1942.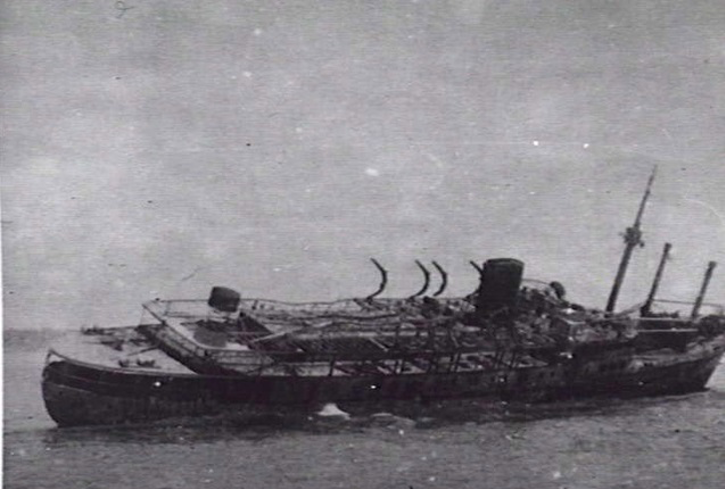 Postscript – The Major Shipping Companies
All of the companies mentioned above went out of business after WW2. The last was heavily indebted Negros Navigation in 2012. Improved roads, Roro Ships, Container Vessels and budget air travel combined to spell the end of inter-island passenger ships as a major way to travel. BB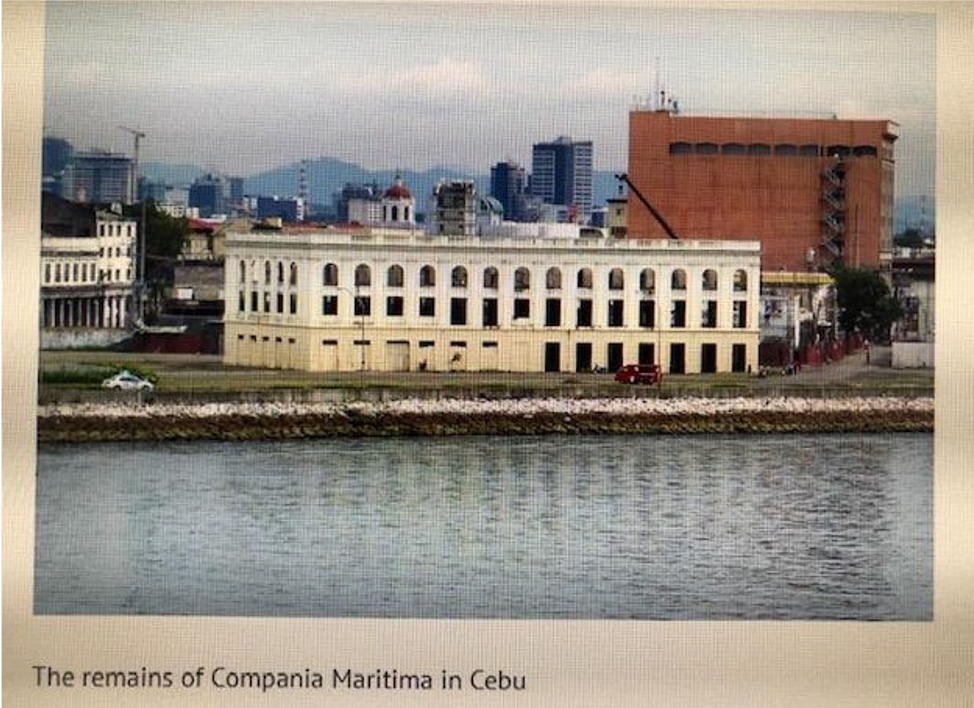 (Sources: Various internet shipping sites/Philippine Ship Spotters Society/Wikipedia/The American Historical Library at Ateneo University)-BB