(Source: AmCham Journal Collection / American Historical Collection at Ateneo)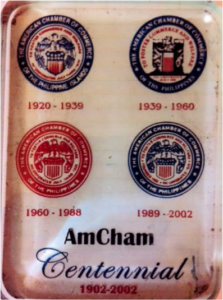 A powerful 1937 earthquake destroyed the Heacock Department Store on the Escolta. Management, led by the dynamic Sam Gaches, quickly moved departments to temporary locations, while designing a new building. It would be constructed at the same site and called for seven stories, with a basement. The first four floors were to be fully air-conditioned and occupied by Heacocks; the upper three floors rented out. Three high speed Otis Elevators kept people moving quickly. Construction started May 1938 and was completed August 1939. Heacock CEO, Sam Gaches, was also at the time President of AmCham. Gaches had come to Manila in 1900 as an official of the Internal Revenue Service. He steadily made a name for himself in business and community affairs. As AmCham President Gaches arranged for the organization to establish its headquarters in the new buildings top floor, a most prestigious location in pre WW2 Manila ;in the heart of Escolta's shopping district and adjacent to the Juan Luna financial district.
AmCham – In the late 1930's the American Chamber was the Philippine's most powerful business organization. Its leaders and members had direct access to America and Philippine Government Officials. Board Executives and Committee Heads were not shy about exerting their power and influence, which included going directly to Cabinet Secretaries in Washington D.C. Back in Manila the Chamber was the locus of activity for American business in the Philippines. The Board of Directors convened weekly and collared visiting VIP businessmen and government officials to speak at functions. AmCham's Journal, published monthly, enjoyed a wide circulation in Asia and America. Led by prolific writer and Editor Walter Robb, one of the original Tomasite School Teachers, editorials often voiced strong political opinions. But on the lighter side, Robb's personal column "Just Little Things" was a gossipy expose of what was going on in the American Community. The Journal kept members up-to-date on the comings and goings of VIPs, mining technical men, and reported on banking, commercial and agricultural production. Occasionally, articles featured good tourist spots, evaluations on the best radios to buy and movie reviews. Robb introduced a popular feature "Men Worth Knowing" reporting on various up and coming business personalities.
In this post we see a 1938 Manila Tribune Article, a Preview of the New Heacock Building and four photos of the New American Chamber Head Quarters (October 1939).
Perennial Bar Tender 'Wong" serving up drinks to Chamber members, all attired in white linen business suits popular at the time. On the right is AmCham Journal editor Walter Robb. (Note the cups for bar chits)
A view of the 'Main Dining Room.' with Chamber President Gaches seated on the left.
The "Reading Room" with Art Deco accents.
And
The "Ladies Lounge" with designer rattan furniture. /BB
Download Preview of the New Heacock Building
Download New American Chamber Head Quarters